The Blue Waters Residency 2012
Seeing the Light 2009
jičínský plenér Artist Residency 15-25 August 2013
I was invited by Mikhail Scigol, a Czek artist I met in Lithuania last year, to take part in this residency which he has organized for the past three years, along with designer Milos Stary. It is based in the town of Jičin, about 60 miles north of Prague. The brief was to produce two paintings about the area, one of which they would keep for the residency collection.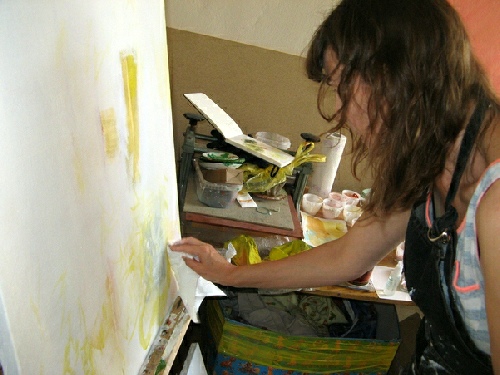 In the studio being photographed while painting - nerve wracking!
I arrived at Prague Airport on the evening of the 15th August, having no idea what this trip would be like. I decided not to research the area beforehand, all the better for me to react to the environment in an immediate way. I was struck by the beauty of the centre of Jičín, with its vast town square and Baroque buildings, each one different with its own colour. My living quarters were literally palatial!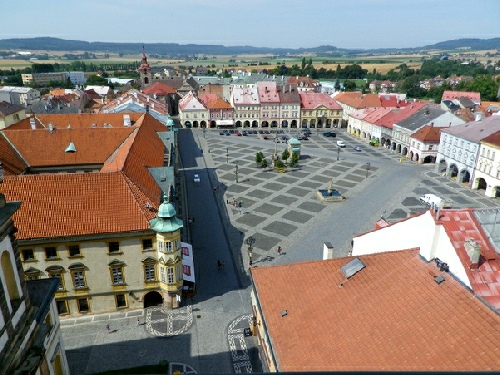 Jičín town square 2013
A guided tour on the first day informed us about the history of the town and its people. I also explored the outlying areas of the 'Bohemian Paradise', visiting the magnificent rocks of Prachovské, and the perfect little chapel of Marie Magdaleny at Zebín (See watercolour).
The other artists were from Poland, Russia, Latvia and Berlin. We talked about each other's work and ideas at social gatherings in Mikhail's lovely house and garden, where the vodka flowed, naturally!
When it came to start my paintings, lots of ideas and images were flying around my head. I never know what my pictures will look like in the end – they go through many changes.
For my first painting, 'Jičín, Zebín', the Marie Magdaleny chapel and the hill became a strong image, along with faded earthy pinks and pale blues of some of the house colours I observed. I added a piece of collage – a rubbing of a pattern from one of the doors of the palace, which echoed the curves of other shapes in the painting.
The second painting, 'Looking Back at Jičín', started off with colours of the houses again, and the numbers from the pavement on one of the streets – a trace of the once-thriving Jewish community.
After a visit to the hill of Velis just outside Jičín the previous day, I knew I had to go back there to do a watercolour sketch of the town and use this image in my painting. The fields of farmland were striking in their rich greens and pale golds, and in the distance the town's rooftops, towers and the mound of Zebín could be seen.
I was very grateful for the way I was made to feel so welcome with such generosity and hospitality from everyone throughout my stay. It was a good feeling to be part of the Jičín community and I had a wonderful, productive time.